A Guide to Danish Design in Copenhagen
Scandinavian Design is a term used to coin the aesthetics of a very minimalist, but highly functional, design style. It came out of the long, dark, and harsh winters that drove people inside, demanding utility rather than decoration. It is famous for its simple and natural forms and durable craftsmanship. We think the style also became so popular, because it triggers our sense of tidiness as well as the need to spend time in comfortable and cozy settings.
When in Copenhagen, one can easily see it and definitely experience it everywhere — from the buildings, cafes, hotels, and even in the way services are designed. What is specific about Danish interior design is that it welcomes novelty and combines it with ideas of simplicity and functionalism. The Danish design scene has a rich history of innovation — not to mention, the atmosphere of warmth and comfort that comes from always having a candle lit and, of course, hygge.
Here, we present six hand-picked Danish venues that we believe can inspire someone interested in the current Danish interior design scene. No museum feelings here. By visiting these shops and showrooms, one can actually get to talk to the artists, designers, and vendors to learn and share thoughts. The extra perk is getting to feel the beauties with your bare hands.
Tom Rossau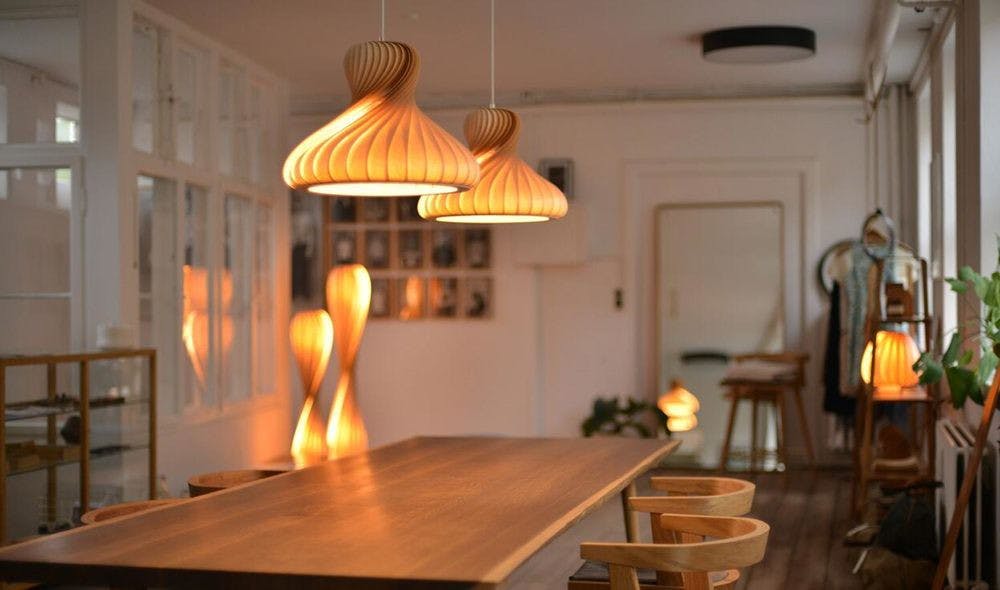 Natural lighting is sacred in Denmark and a big importance is set on windows. Lighting is used to make spaces feel bigger and brighter. One can never get too much sunlight. Tom Rossau makes lamps by hand that are almost sculptural in nature. To him, the essence of a lamp lies in the transformation of the atmosphere when switched on. This is very important, although the lamp must likewise hold its beauty, also when turned off. All his work revolve around three materials — wood, paper and metal.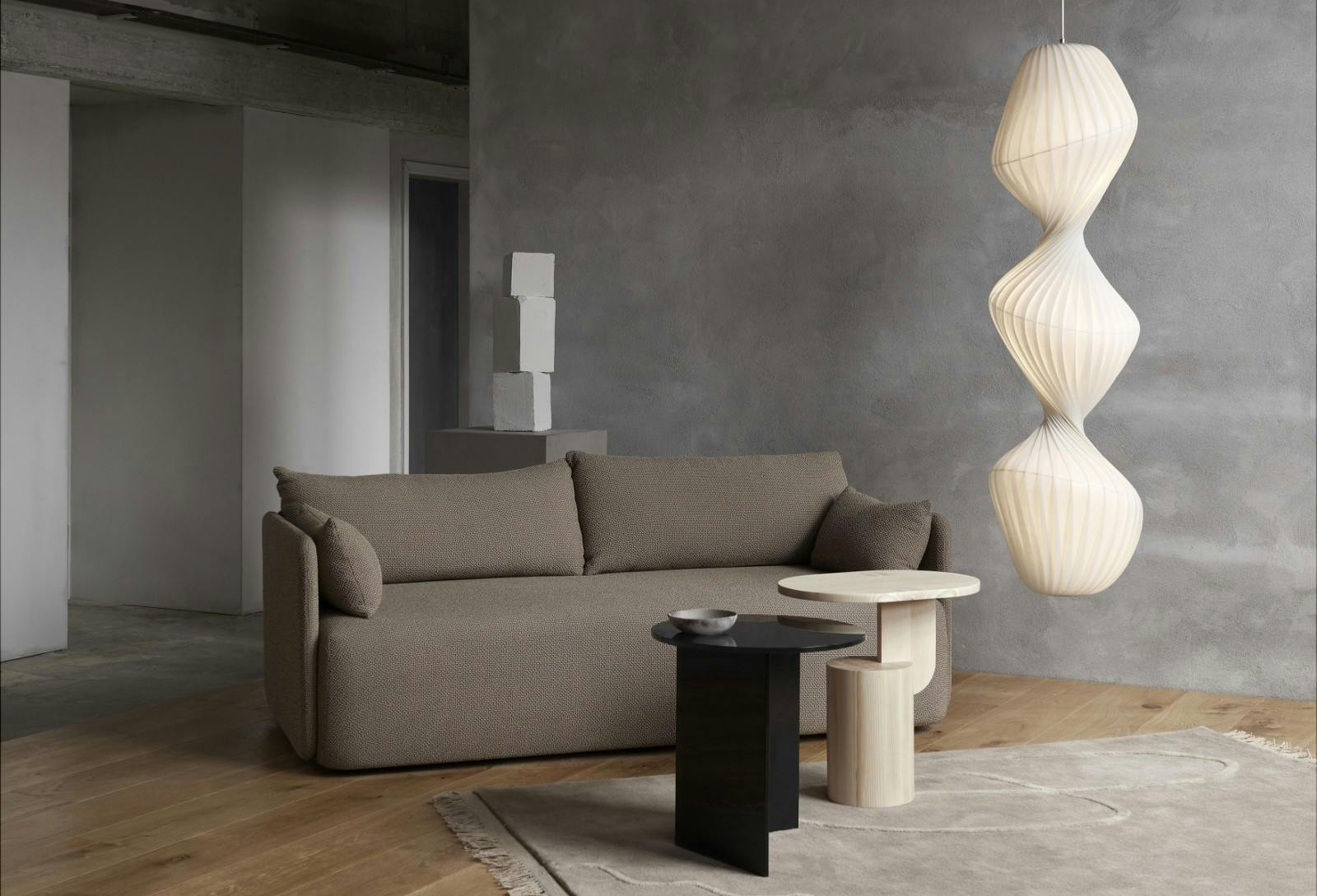 Brdr.Krüger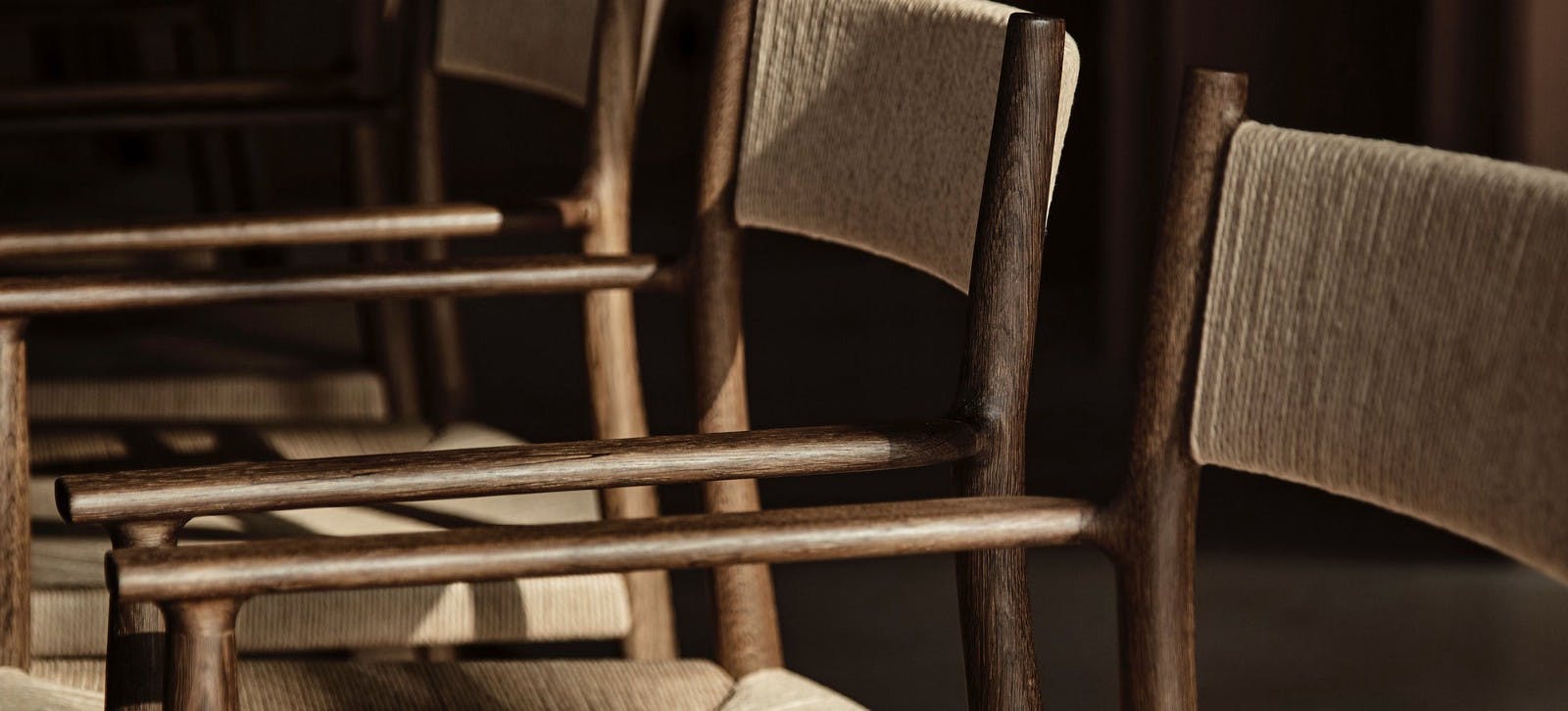 Warm wood and sepia tones are very well-liked in Danish interior design, because they exude a sense of downplayed elegance, while making a room feel cozy. Wood is often incorporated into the design of a space through walls, wood slats, flooring, and even playful things like toys. Brdr.Krüger is a fifth generation heritage brand, self-producing classic furniture collections in Denmark. Even though the brand has been around for more than 130 years, the pieces they hand-craft have a timeless appeal. Their wood legacy is shaped by a modern sensibility and their take on tradition is through the reinterpretation of designs that explore new archetypes and materials. Sitting in one of Brdr.Krüger's designs makes us feel calm and sophisticated. They thoughtfully developed the signature furniture for Noma. The uncompromising quality of their furniture makes them a mandatory place to visit.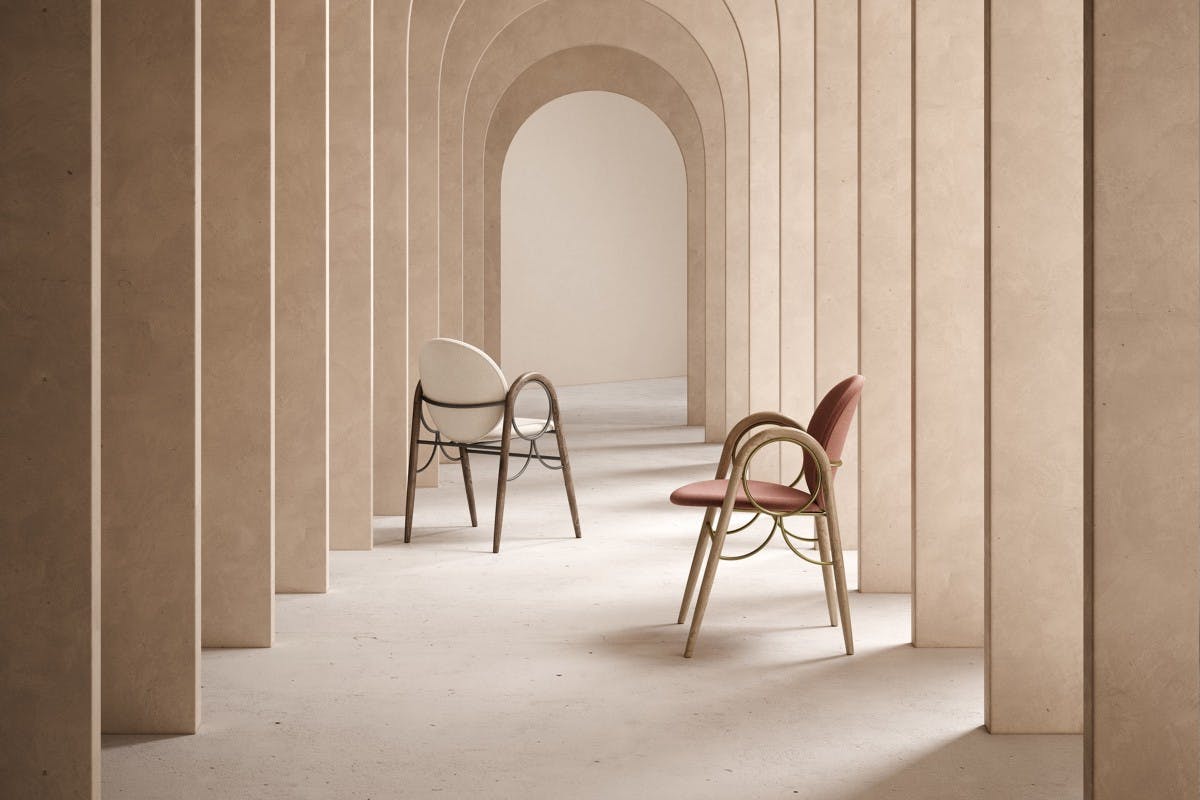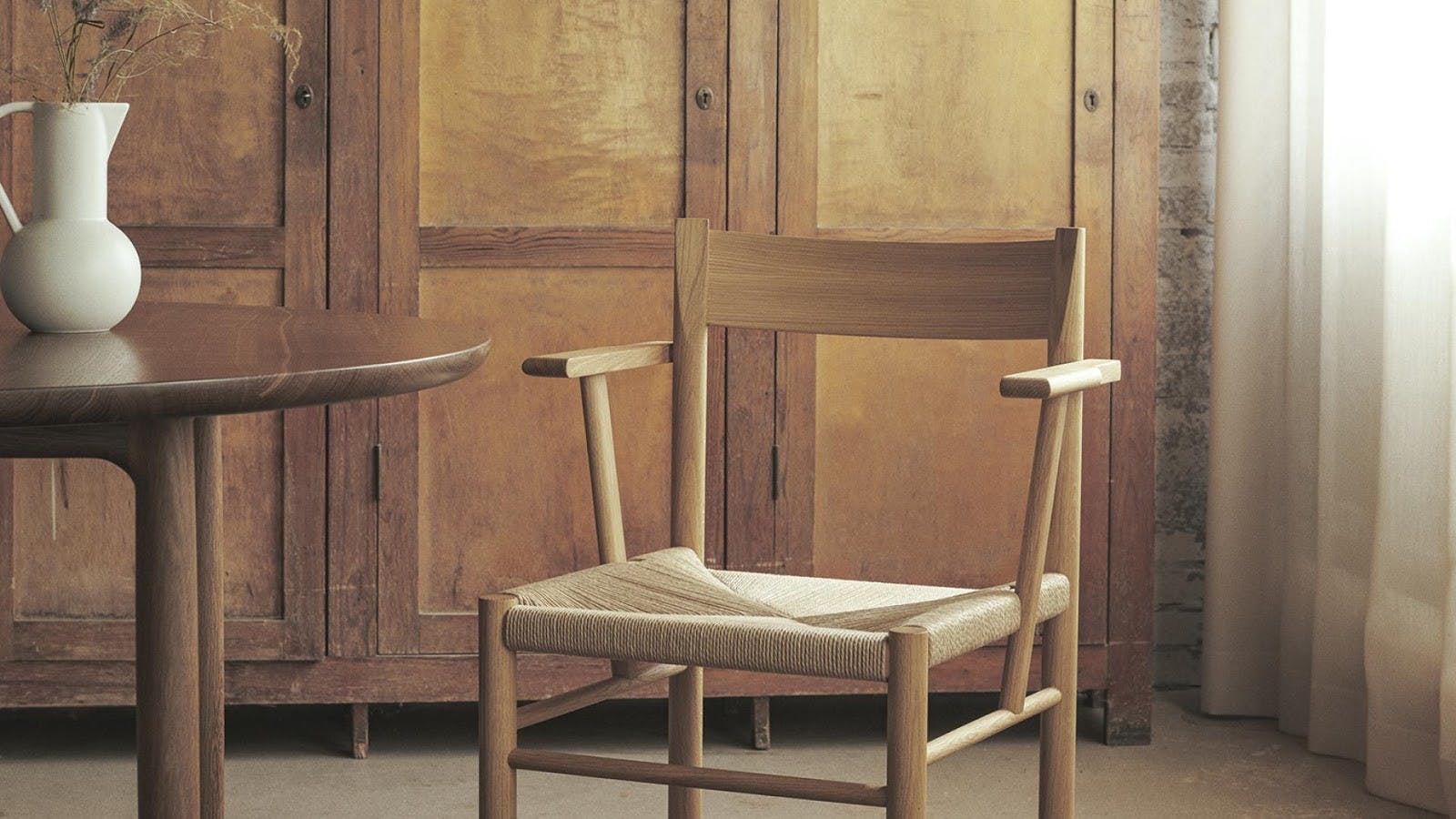 House of Finn Juhl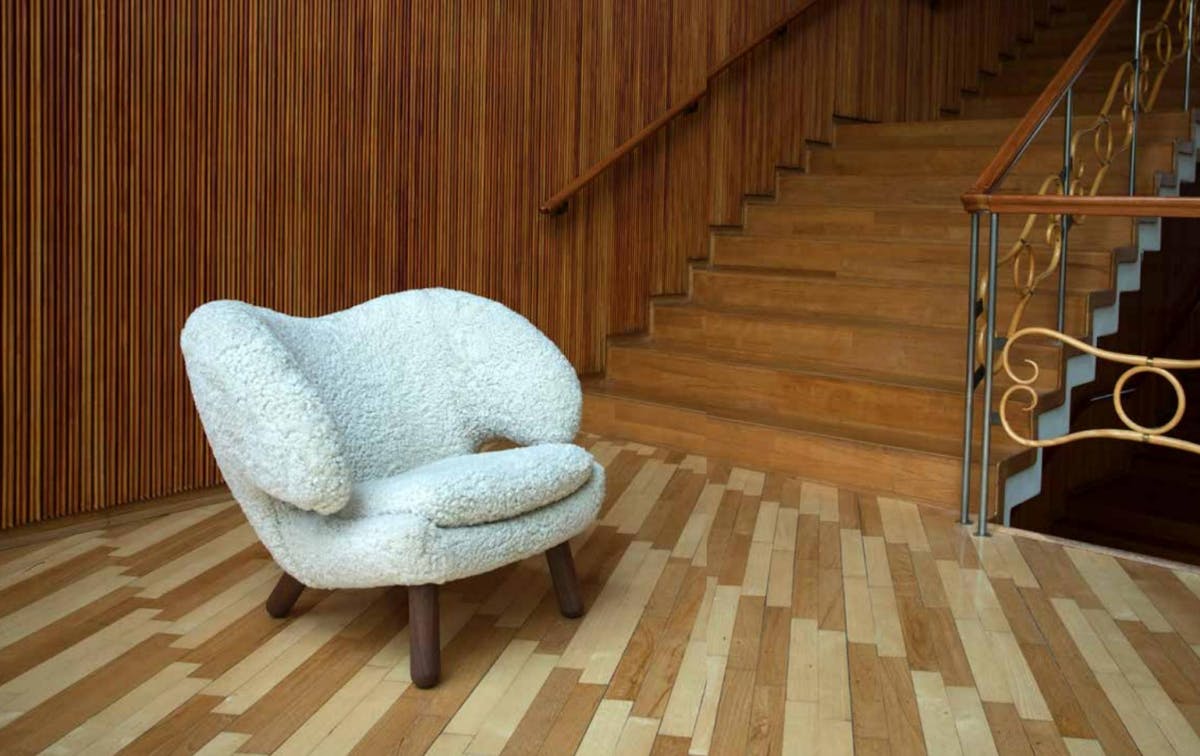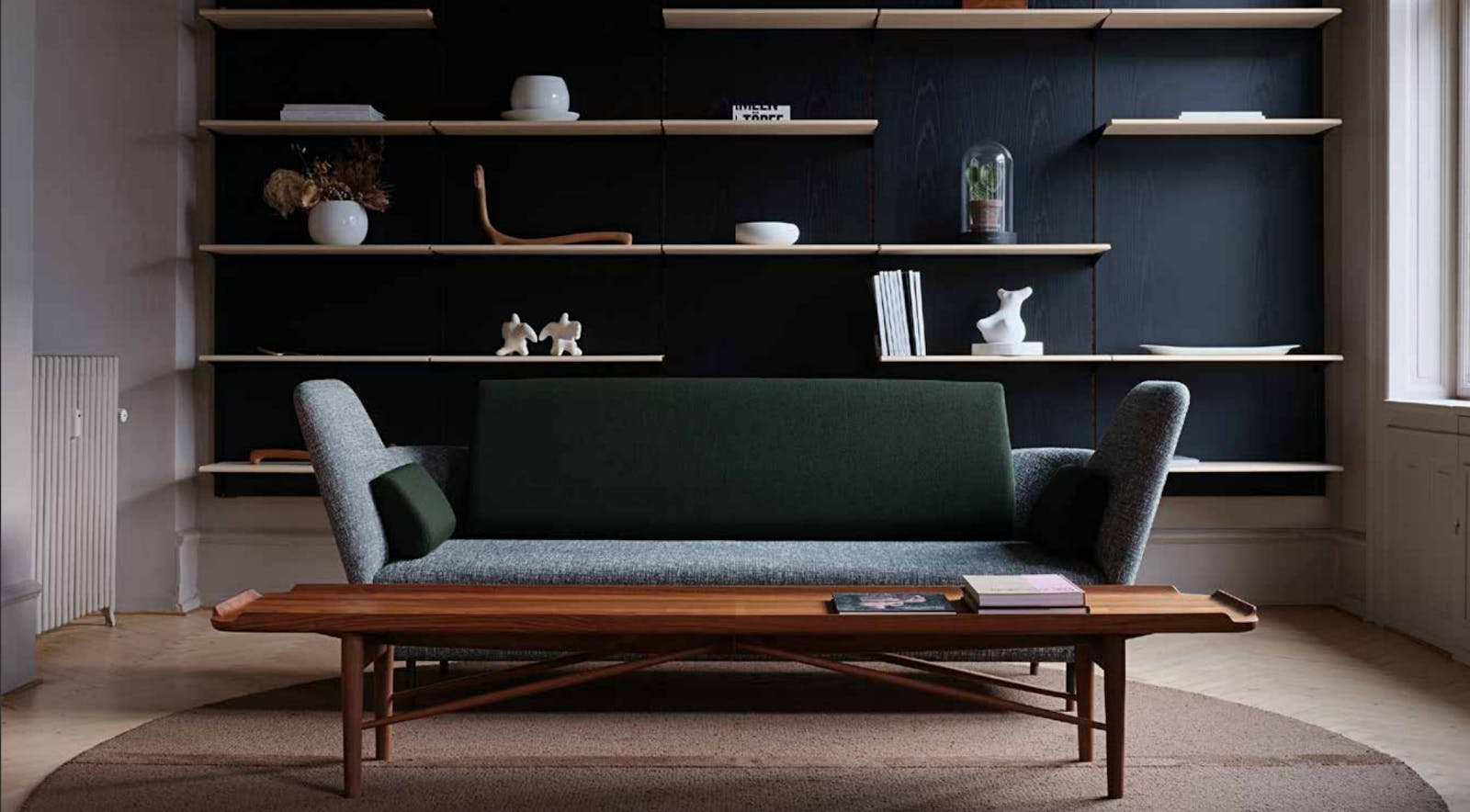 Danish design really considers the balance between coziness and elegance. It is important to have furniture elements that stand out, so a room doesn't end up with a neutral background. Finn Juhl was a pioneer among his contemporaries. Deeply inspired by modernism in art, functionalism, and architecture, his creations were based on human needs. While his ambition was to create furniture with movement that was made to be lived on, he certainly ended up designing sculpture-like pieces that one's eyes are simply drawn to. The House of Finn Juhl's design universe embraces constant surprises in terms of organic shapes, aesthetics, and daring details. One can expect extravagant and sometimes colorful designs that remain highly relevant, both in classical as well as modern interiors.
Menu Space
Another characteristic of Danish design is the common adoption of open floor plans, with minimalist furnishings in muted tones in opposition to using overwhelmingly heavy colors. Menu Space is an open space, in which you can find their showroom and cafe. A Danish design company that has been around since 1978, it is a collaborative space for knowledge sharing, synergies creative meetings. Their purpose is to enrich today's living through designs that connect individuals creatively. At the venue, one can also have a close look at Menu's designs and draw inspiration from their strong materials, such as concrete and steel. Often, Danish designers juxtapose the hard, dense material with rugs or sheepskin textiles to soften the feel of a space.
Muuto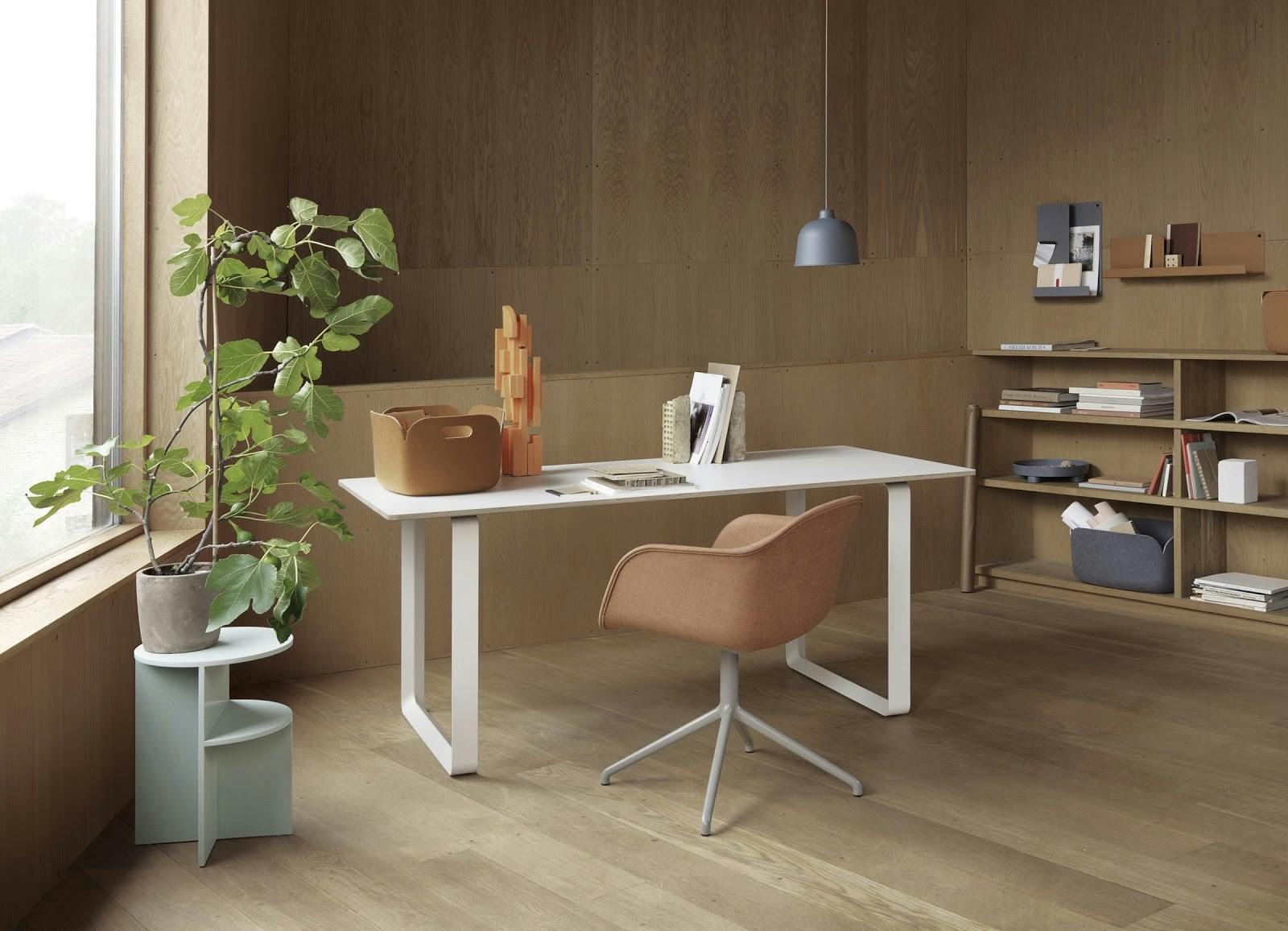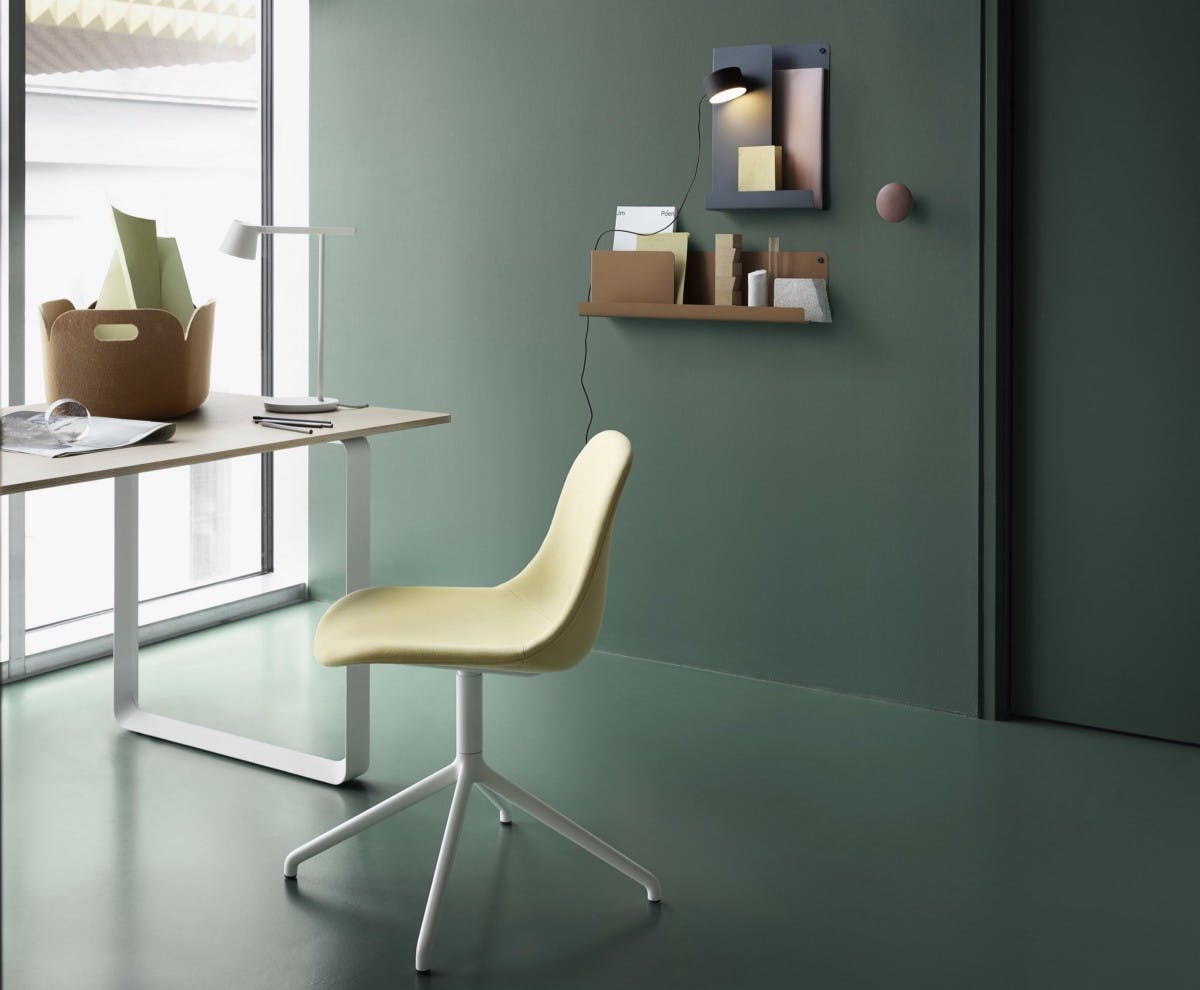 Danish culture leaves no room for messiness — it is very much into the organization and decluttering of spaces. Moreover, it is very important that all spaces have a homey feeling — whether commercial or residential. Danish interior design offers understated simplicity and functionality to create spaces, in which one can retreat. The style helps to put time aside to focus on getting work done, while feeling comfortable. Muuto has several solutions for this need. The Arrange desktop series brings a sustainable perspective to modern storage. A configurable design with architectural shapes in 100% recycled plastic, it is ideal for storing papers, accessories, books and magazines. The Under the Bell pendant lamp, also made from recycled plastic, provides a cozy feel, while absorbing noise and helps to improve room acoustics. Muuto even designed a cable management solution that can be implemented into tables to keep those messy cables tidy. Their pieces have character, and their new mood boards are exploring color palettes, shapes, and textures in interesting new ways. Definitely a place to visit if you are into styles that are cheerful and inviting, yet calm and warm.
Studio Arhoj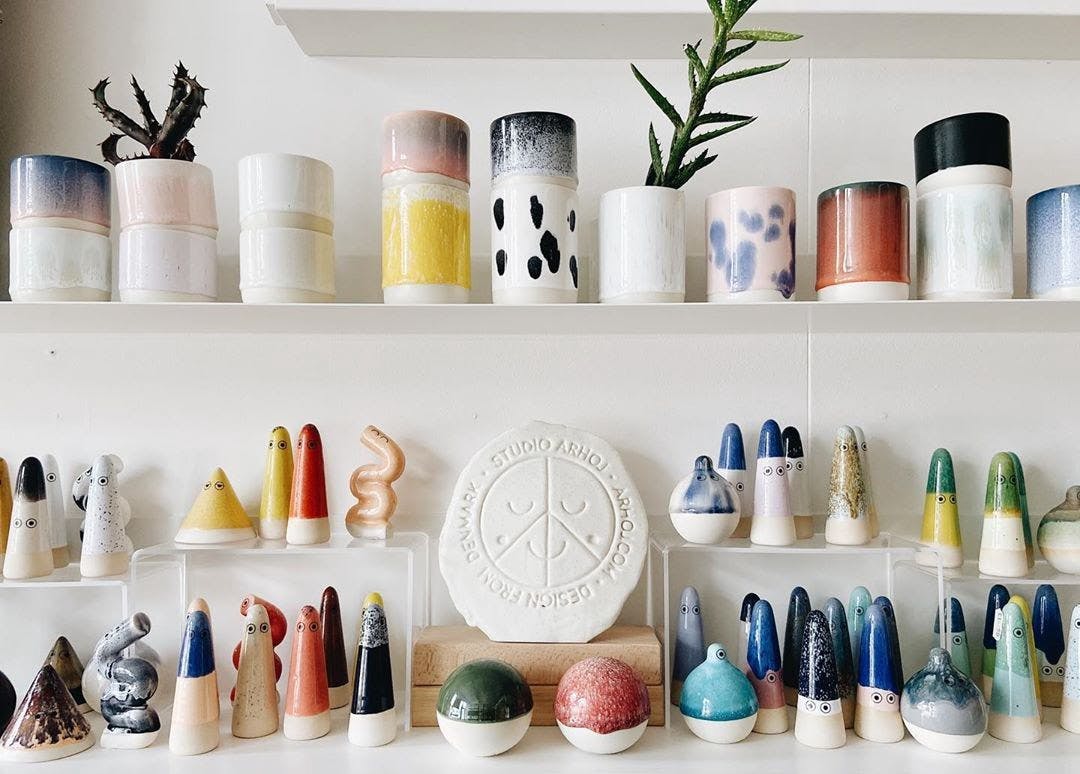 When color is used in Danish interior, it is often in small bursts or bright hues. The neutral furniture, wood, and muted tones only come to life with rugs, throws, or different artworks. These can provide a sharp burst of color and make the whole space more vivid. Ceramics play an important role here. The Danish interior design studio, run by Anders Arhoj is very well known for the use of colorful glazes and quirky ceramic characters. It has actually become something of an obsession for the design-oriented crowd in Denmark. It is undeniable that mixing decor styles makes a space feel layered and cozy. The hand-crafted appealing ceramics range from small useful products, like pencil holders, mugs, and plates, to purely decorative items. The studio explores the visual relationship between Scandinavian simplicity and funky Japanese culture. It is focused on keeping alive traditions and knowledge about old crafts. If you pay the in-studio store a visit, you can witness the entire process of throw, glaze, and the final fire.
At OMNI, we create offices and home-offices with beautiful danish furniture on subscription, and our mission is to make omnificent spaces accessible to all.